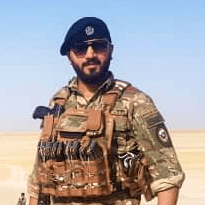 Sayed Mairajuddin Sadat
Security Representative Senior
Sayed is an experienced member of the senior management of the construction business at the controlling areas of infrastructure and complex building projects.
After his graduation, he practised as legal advisor of the authorized distributor of Motorola and Samsung security cameras in Afghanistan. One of his achievements was a role as director of international affairs of BRIGHT WAY SOCIAL ASSOCIATION. Foreign Career experience gains as a director of internal relations in AMAN ZADA GROUP OF COMPANIES in UAE.
Milestone of Sayed's private and professional life was a step into service at Government's in 2009. His position as an advisor to the "Boost" special force of Helmand province and as secretary to the National Directorate of Security director of Helmand province was life dangerous. He served as security representative of Laghman and Sar-e Pol provinces national directorate in Kabul. As head of NDS in the Police Department for Anti-Terrorism and Counter-narcotics, Sayed led special operations in Nimruz and Laghman Provinces and joint operations within other country areas.
He is professionally dedicated to security and counter-terrorism.
Sayed is fluent in English, Dari, Pashto, Urdu.